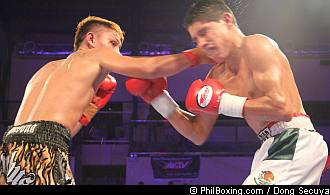 After resting for almost 2 years after his devastating loss against the Puerto Rican Wilfredo Vazquez Jr., the 21 year old Marvelous Marvin Sonsana was successful in his comeback fight last night against the 25 year old Mexican Carlos Jacobo via unanimous decision. The match was held at the newly built Hoops Dome in Lapu-Lapu City in Cebu.
The highlight of this match came in the 8th round when Sonsona was able to Knockdown Jacobo via a combo hit- one right hook and a vicious upper cut. That combo hit shook the whole body of the Mexican and he just fell on the canvass. The whole crowd in the Dome went into frenzy.
All of the other rounds in this fight was a drag. Both of the fighters were just at par with each other. They were just exchanging blows from round 1 up to round 7. There were no clear winner in those rounds but when the 8th round started, Marvin Sonsona was able to throw convincing punches that prompted the judges declare him the winner.
In the 9th and 10th round Jacobo sensed that he needed to be more aggressive in order for him to snag this fight but Sonsona was able to dodge his desperate punches. The bell rang and the judges gave their score cards to the ring announcer. The judges scored the match 98-91, 98-91, & 97-92 all in favor of Sonsona.
With this big comeback win, Sonsona now has a 15(12 KOs)-1-1 win-loss-draw record.