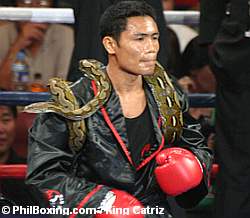 Donnie "Ahas" Nietes wins against the quick footed Ramon Garcia via a unanimous decision in the main event bout earlier at the Universit of St. La Salle at Bacolod City. As a consequence of this big win, Mr. Donnie was able to get the WBO light-flyweight belt from the Mexican Ramon Garcia.
In the first round of this fight Donnie Nieter launched a number of combination punches and that ignited a furious exchange of blows from both of the feisty players. Their tight encounters in the right made the audience shout.
But in the 5th and 6th rounds, Ramon Garcia seemed to be doing a dirty tactic. He was trying to hit the nape of Nietes because Donnie was trying to cop out from being trapped in the corner. It irritated Garcia. From then on Garcia became more aggressive as he was sensing that he needs to increase his points.
In Round 11, both of the fighters were giving it their all and it caused a tremendous amount of friction that forced Donnie's left eyebrow to pop. Thankfully his coach knows how to stop the bleeding.
And so the fight went on. The judges were impressed at the courage of Donnie because despite his left eyebrow injury he still fought to the finish. The fight went up to round 12.
The ring announcer announced that Nietes won this fight via a unanimous decision. Here are the judges scores:
115-113, 118-110 at 117-111.
And here the results of the preliminary matches:
AJ Bazooka Banal and Prince Albert Pagara won against their respective opponents. Thus, each of them now have the WBO Asia Pacific Bantamweight Championship. Merlito Sabillo on the other hand got the OPBF Minimumweight Championship.