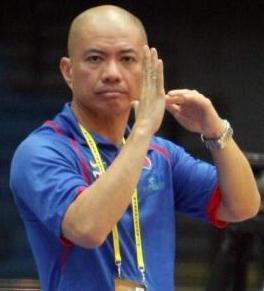 Source: AL VIADO Twitter: aldirk41
Two coaches have been at it once again as coach Yeng Guiao and the Rain or Shine Elasto Painters battle coach Chot Reyes and the mighty Talk ' Text Tropang Texters in a tune-up game earlier today. This time, the Elasto Painters got the upper hand against the Tropang Texters via 100-96. And as usual, both of the teams added some color to the tune-up game especially the coaches. Words like, "Bakla" came out flying and all of a sudden a royal rumble happened. Thankfully they were pacified immediately by the officials that's why no one was hurt.
Going back into the contest, the bigger and more athletic guards of Rain or Shine such as Paul Lee did a great job in stopping the guards of Talk 'n Text. He didn't score that much but his aggressiveness and hassle halted TNT's Pamboy Raymundo.
For TNT, Larry Fonacier as usual launched some three pointers to cut the lead of ROS, but in the end his efforts fell short as ROS goes on to win this tough game.
Here are the blow by blow updates of Mr. Al Viado using his Twitter account.
*Coach Yeng and Coach Chot just exchange words, muntik nang magkaabutan ng suntukan

*76 ros 71 tnt end of 3rd. Larry hit a couple of more 3's and Japeth at least 3 dunks at that qtr..ros players trying to distract pamboy.

*I think I heard coach yeng said 'bakla' to coach chot, i dunno kung sinabihan nia coach chot or sinabhan cia ni coach chot. Tsk tsk

*100 ros 96 tnt. Coach yeng did not approach tnt bench. Tsk tsk. I like coach yeng but i think it's a bit unprofessional.

*Pamboy is a good player. Sa kanya ngstart ung gulo kasi nakakagirian nia mga ros players,kaya c coach yeng asar sa kanya and pingmumura cia.

*wow. tune-up pa lang mainit na. mahihirapan talaga ang TnT. twice makakalaban ang SMC at ROS.