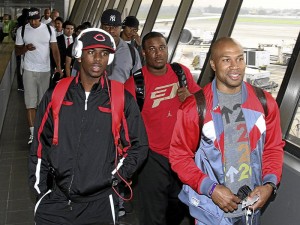 Source: Sports.Inquirer.net
The NBA players are one in being grateful about how their fans here in the Philippines welcomed them with open hands yesterday for the much awaited Ultimate All Star Weekend which will start today at 7:00 p.m.. Here's what they said:
Chris Paul (CP3) who's popularly known as one of the greatest pure point guards in the NBA right now, said:
"What a welcome from the fans here in Manila."
Tyreke Evans, who won the NBA rookie of the year award last year, was also grateful about how the Filipinos treated him at NAIA. He said that:
"Shout-out to all my fans in Manila. They all showed me love at the airport."
The reigning NBA MVP, Derrick Rose also extended his gratitude to his Filipino Fans. He said that:
"Just touched down in the Philippines!! Some serious hoop fans out here! Who's coming to see us play?"
The NBA Players really want to explore the Philippines. They are scheduled to visit Boracay one of these days. Some of them want to eat and shop here in our country.
Derrick Williams, the reigning Number 2 draft pick of the Minnesota Timberwolves in this year's NBA Draft said:
"I saw a 24-hour Shakeys on the way here! Hopefully they deliver! Best pizza ever."
James Harden, on the other hand wants to go shopping in our country. He said that:
"Wanting to do some shopping in the Philippines. Any ideas?"
It was a busy day for the NBA players yesterday and so they wanted to shake their stress away by partying at Republiq. One of my readers shared in his Facebook account that the NBA players caught the attention of their fans at the said club. Nina Jose was also there but...
"nba all star @ republiq hoo boom harden,reke,drose,cp3.fish, yeah whooo ang lapettt,, nina jose c rocky nlang pumapnsin sayo.hah wooo!"
That's how appealing and that's how famous NBA players are in the Philippines.