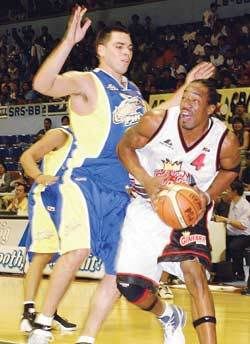 After Powerade's first import, John Nathan Williamson injured his left shoulder in their tune-up game against Ginebra, the Powerade team management led by Coach Bo Perasol contacted the agent of Ginebra's former import back in 2005-2006 Fiesta Cup, Chris Porter. Porter stands 6'6 and he will surely be a big help for the Tigers. Porter can score big and he can also rebound a lot. They will need his scoring because Powerade will also indefinitely lose Gary David, their leading scorer, due to injury. David injured his left hand and he will be out for atleast 1 month for Powerade. They will lose atleast 22.3 points from David.
Chris Porter had a great season with Ginebra back in 2005. He onced scored 31 points and grabbed 24 rebounds in a single game for Ginebra. The Powerade management said that he's just a temporary replacement and once Williamson's injury is healed, he will be back for Powerade.
Coach Perasol is aware of how good Porter is but he's worried about his body condition. Perasol said:
"We will miss his output, and with Williamson who is also a scorer and a rebounder, there will be big holes to plug. He is the next available import but we really do not know how game fit he is right now," said the Tigers' coach."

To give you an idea on how Porter plays, here's his short video from YouTube.