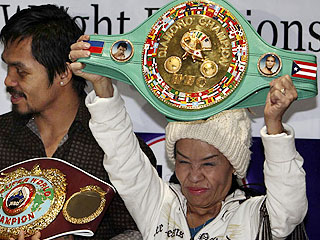 Since it's almost Father's Day Korina Sanchez interviewed Congressman Manny Pacquiao and his dad, Mr. Rosalio Pacquiao. Most of the questions were about their relationship as father and son and much to my surprise, Manny didn't have any bad feelings for his father despite leaving them.
Manny's father, Rosalio, left Mommy Dionisia when Manny was only 12 years old. Despite that Manny still loves his dad. He even bought him a car and a house and he toured him in Las Vegas. No wonder Manny is so successful. He is really a good person.
His father, Rosalio said that:
"Kahit lumayo ako, hindi naman ako nakalimot, kinukumusta ko sila lagi. Kahit wala ako, lagi ko silang iniisip, pangarap ko na makasama sila uli."
Manny was able to reunite with his father after his latest win against Mosley. He longed to see his father because he miss his father's silence and very humane approach. He's not a violent person, Manny said. He added that his father didn't know how to box. Manny didn't see his father punch.
When Manny was asked on where did he inherit his boxing talent? Manny said:
"Hindi ako kay Tatay natuto. Sa Mama ako [natuto], nung binubugbog si Papa."
Now we all know that Mommy Dionisia can knock down a guy. Let's be aware of her boxing talent.