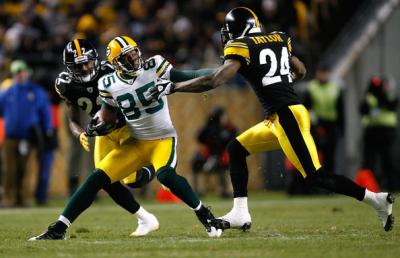 Finally! After several days of very heated battles it has now come down to two very determined teams, the Green Bay Packers and the Pittsburgh Steelers. One of these two teams will be crowned as the 2011 Super Bowl Champion.
The bad news for Steelers fans is that the Green Bay Packers are the more favored team to win the crown due to the odds that was set at 2.5.
The more favored Green Bay Packers had won the NFC Championship yesterday.
Aaron Roger can't believe that his team is now in the Super Bowl finals. The number quarterback of his team also said that he is speechless and he is loss for words.
Roger did not have a great scoring and passing day but he still had a great impact as he led his team to a 21-14 win over the Chicago Bears. The win sealed their ticket to the Super Bowl finals.
The Steelers on the other hand defeated the New York Jets with the score of 24-19.
The Steelers are the less favored to win the Super Bowl because of their suspended quarterback, Ben Roethlisberger. He was suspended for a couple of games. That will cost them a lot. This is their 3rd time in 6 long years to enter the Super Bowl. Hopefully they will get what they want this year.
Green Bay Packers win Super Bowl 2011. Click here.
Green Packers beat Steelers