Smart, sexy, athletic, and has a great personality. That's Gretchen Ho. She is the tall and sexy blocker and spiker of the Ateneo De Manila University Lady Eagles. She wears jersey number 3. She believes that 3 is a perfect number. She is Chinese. Although they believe that 8 is a lucky number because it continues to roll despite hardships, she still chose to wear number 3. That is Gretchen Ho for you. That's why she is our dreamgirl.
She has good grades since highschool. She is a Cum Laude candidate. She's really a perfect girl. An ideal girl, a dreamgirl. She was even featured in Manila Bulletin because of her good grades and great performance as an athlete. She is a certified student athlete like Chris Tiu and other Ateneans ahead of them such as Paul Tanchi and Rich Alvarez who all became Cum Laude graduates.
She likes helping others specially the poor. She likes doing charity works instead of going to bars. She love being a tutor to public school students. She wants to extend herself to the community. That is a student athlete for you. If you want to read the article just press ctrl plus sign to enlarge the picture below.
She likes guys who are well dsiciplined, diligent, kind and very respectful. If you want to know her more, her favorite food is doughnut. She loves eating it.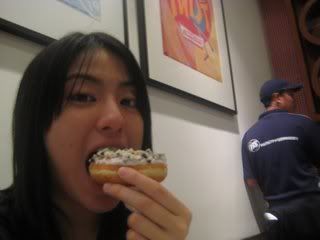 She is the Gretch Wall of the Ateneo Lady Eagles. With her tall height of 5'9 she easily blocks spikes. In the current UAAP Season 73 she already has 7 blocks in just 5 games. She is also a great ball killer as she spikes the ball really hard like no one else on the volleyball court. She averages 6 kills per game. Also, she is a great receiver. In their game against the UST Lady Tigresses, she received the ball coming from Judy Caballejo of UST very well.
There you have it guys, she is our dreamgirl Gretchen Ho.